BAJA NORTE OVERVIEW: The Baja Peninsula is generally one of the hottest and driest places on the North American continent. However, a small coastal area of northwestern Mexico surrounding Tijuana has more of a Mediterranean climate with considerable coastal fog and a winter rainy season similar to southern California.
Here the rainy season runs November through March, with very little to no precipitation the rest of the year. Winter storms, generated as far away as the Gulf of Alaska provide areas along the coast west of the mountains with up to 12 inches of rain per year – which is enough to support sizable forest at the higher elevations. Evenings can be chilly any time of the year in comparison to warm daytime temperatures.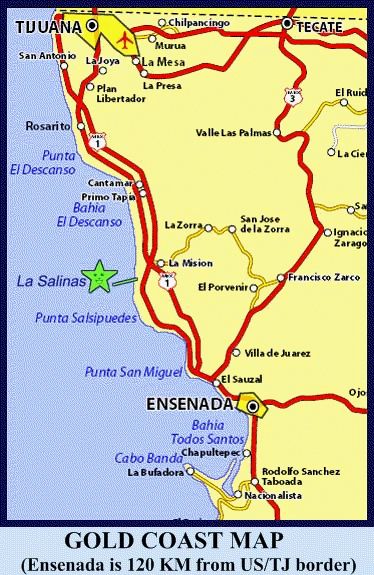 GOLD COAST "NUGGET" : The coastline area from TJ to Ensenada is known as the "Baja Gold Coast". La Salina is in the "nugget" of the Gold Coast stretching from La Fonda/La Mision through La Salina and onto Bajamar Golf Resort.
La Salina is a small community located approximately 25 minutes south of Rosarito Beach on Baja's Gold Coast. Cradled by the warm, tranquil Sea of Cortes on the east and the magnificent Pacific Ocean on the west, La Salina sits amid one of the most spectacular and diverse landscapes in the world.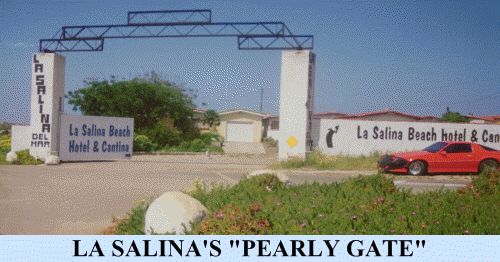 BACK TO B-4 BEACH CLUB: The following information focuses on Bajabrent's B-4 Beach Club and its associated activities. When reviewing the "Road Trips" below, all mileage references relate to the B-4 as the starting point.
Beach Bumming: Sometimes the best things in life are in your own back/front yard. You can enjoy a pleasant day laying in the sun or resting in the shade on the expansive beachfront patio right at the B-4 Beach Club. Listen to the indoor/outdoor mix of Reggae, Spanish Guitar or Rock and Roll, or better yet...just listen to the breaking tide. Its pretty slick to lay around and do nothing but flip over or reach for a cold one!!!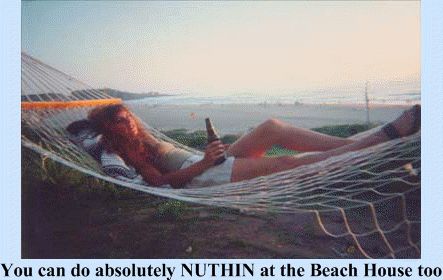 Dolphin sitings occur daily with pods of up to 20 gliding north and south in the breakwater, sometimes leaping into aerobatic twists and turns.
Whale watching/sitings are also prevalent from late November through early June. Seals also frequent the area and have been known to swim onto the beach and tan away! Tow in surfers occassionally practice in the surf and are fascinating to watch. You can also flip around and observe glider pilots fly along the La Salina ridge to the east.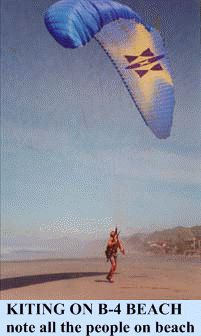 Wing Kiting: No better spot than the sandy front yard of the B-4 Beach Club. Great warm-up before climbing to Launch. Before you soar...KITE at the beach in front of the Beach Club... especially if you haven't flown in over the month or are unfamiliar with cross-wind launching! Wind socks are all over the place.
Immediate Area Walking Distance: The home is immediately next to or you can walk.to: first, and obviously there is surfing/swimming an boogie boarding right in front of the house. The beach does not have lifeguards like any other beach in Mexico...and the riptides can be dangerous. Best to swim with a flotation device or take a boogie board. Dolphin watching and whale watching are other favorite past-times.
Surfers: good surfing just walk south towards Baja Seasons. Better surfing to the south on either the north side of north jetti at the harbor or to the south side of the south jetti...good channel out area on north side of north jetti...NOT A BEGINNER SURFSPOT!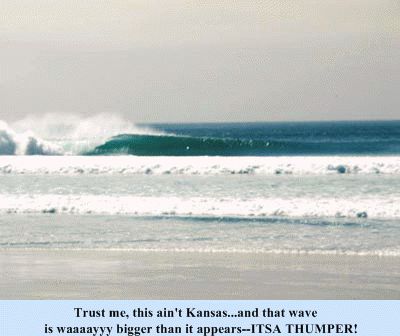 Kayaking: great location in front of house, or if you want in easy paddle, go to the harbor. Small fee they'll help you launch
Tow-In-Surfers: (the evolution of big wave surfing---requires wave runner and driver to tow the surfer into the wave---after surfer completes driver swoops in and pulls him out of the break with a water-ski tow line )They come out of the La Salina harbor and work the breaks going north...this is pro surfer training ground for tow surfers prepping for Todos Santos in Ensenada. Its a good armchair observation sport too from our porch or beach! For even better surfing keep reading after "Road Trip"
Kiteboarding, Kitesurfing and Windsurfing: Go to south side of south jetti of harbor. Inflate on sandy beach and launch from same. NOW Go Get BOOSTED!
Horseback Beach Riding: Cowboys bring horses to Baja Seasons in early morning (i.e. 9ish--thats early in Mejico and depart around 4) You can locate them on beach in front of Baja Seasons OR catch them coming/going in evening as they pass in front of house.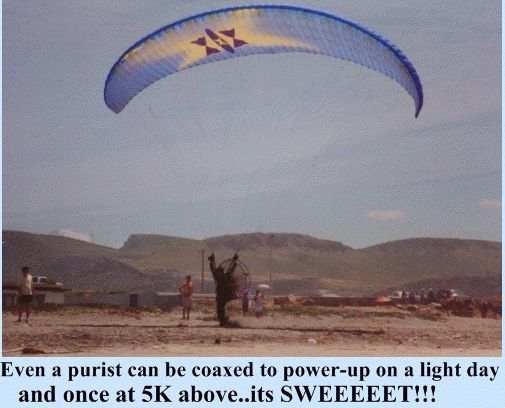 Ultralight/Paramotoring: Done right in front of house all the time. In fact, if you look close at the homepage split photo, you will see a delta wing on the sand to the right. Yep one of the residents parks his tandem ultralight right on the beach.
Bajabrent loves to wake up in the morning and read the windsock, don't even have to get out of bed if its still offshore! But on cross days or very light afternoons, there's nothing like strapping into an eggbeater and getting in some yummy fly time.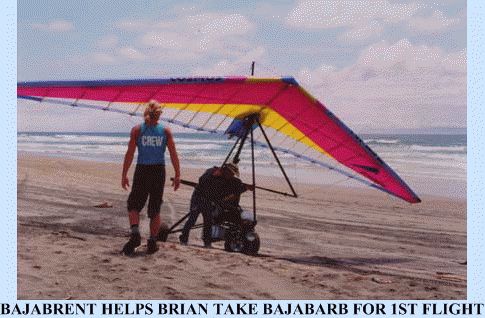 Whether its an ultralight or a powered paraglider you can launch your craft right out in front of the B-4 Beach house. A Dr. lives a couple doors down and flies his ultralight everyday possible. I'm sure he'd share his knowlege as he seems a nice fellow.He parks his wing on the beach at night, so not to worry!
Meanwhile you can fly your ultralight to La Fonda, where Gabrielle keeps a fleet of ultralights or fly to Ensenada or follow back the valley gap to Guadalupe wine country! Up Up and Away!!!! BTW Of course buzzing the rooftops doesn't create neighborly love so practice flying manners. please.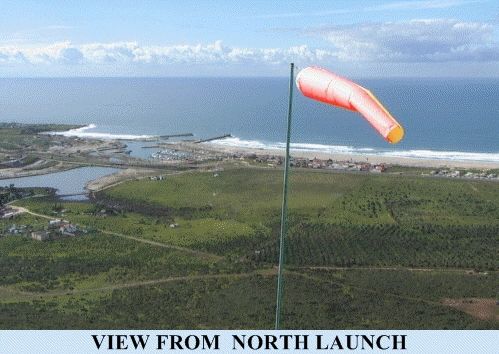 La Salina Flying/Soaring Ridge: (paragliding, hangliding, paramotoring and ultralight); Internationally renown among the "free flight" community of paraglider and hanglider pilots. A one mile switchback trail leads from the sea level Landing Zone to three carpeted launches at the top. From there one can launch and access up to 7 miles of flying ridge.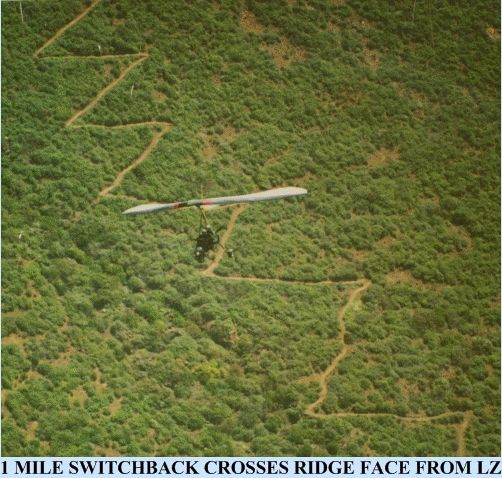 The 1 Mile switchback leads up the face of the La Salina Ridge. Although it was built to facilitate paraglider pilots, many find it an enjoyable hike. Once on top a person can see for miles in both directions up and down the beautiful Baja Coast. To locate the path, drive east under the toll bridge from La Salina. Do not get on the toll bridge but continue east on the dirt road. You will pass a few houses on your right.
When the road dead-ends, turn left. go 1/4 mile and look for a fenced parking area on your right. Park and secure your car. Enter through a gate on the northern end. Follow path east to the landing zone. On eastern side of landing zone you'll locate faded white rock markers at beginning of trail. Its 1642 steps to North Launch...how do I know that? I've hiked more than anyone in the world...mostly by myself. You have to do things to entertain yourself. Fastest known ascent from white rocks to north launch 13:34 by Bajabrent.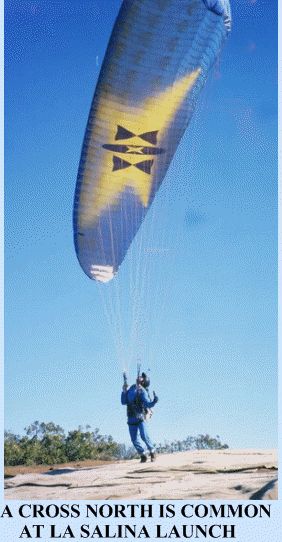 Known worldwide for its ideal location for several reasons: 1) year round flying conditions (temp varies from 50-80 degrees F ); 2) onshore coastal ridge lift from the Pacific Ocean 1 mile to the west of launch; 3) significant afternoon thermal activity from desert floor stretching from ocean AND then stretching east across the topside mesa . .
Bajabrent has flown this site more than anyone worldwide...so HE'LL HOOK YOU UP. Pilot classification to fly here should be a P-2++ unless you are very familiar with the ridge, or are accompanied by a qualified instructor.
THIS IS NOT A BEGINNER HILL!!! And ALL PILOTS fly at their own risk!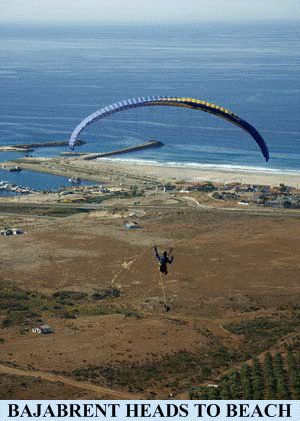 IMPORTANTLY: If you stay at the Beach Club as a paragliding pilot you can not be a "sky-god-for-a-day" until you can launch, fly for an hour or so (preferably 2-3) climb to a grand and fly to the beach house to spiral in for beer!
Don't forget to pay attention to the birds. They might lead to a nice fat thermal that will place you at the B-4 depending what the prize of the day will be! Remember the Ravens are family and if you treat them right they'll return the courtesy and show you a fat thermal so YOU TOO can fly to the beach!!!!
For more information you might want to check the following websites, especially the blog: www.FLYLASALINA.com and www.FLYBAJAMEXICO.com and BAJABRENT's paragliding flight blog at http://BAJAFLIGHT.FLYLASALINA.com ).
Puerto La Salina: brand new salt water pleasure craft harbor. This is the only such harbor between San Diego and Ensenada--public is welcome(especially if you have a yacht!) They have a mexican seafood grill right on the water. Pleasure/fishing charters can be arranged to tour locally or even sail/motor to Ensenada. ALSO large scale residential community being constructed around harbor.
La Salina Cantina and Restaurant: Truly a "hole in the wall" to some and a "true treasure of a find" to others. Food is 80% mexican--balance Gringo. Breakfast is good; lunch: Mexican; Dinner the filet mignon is OK for the price.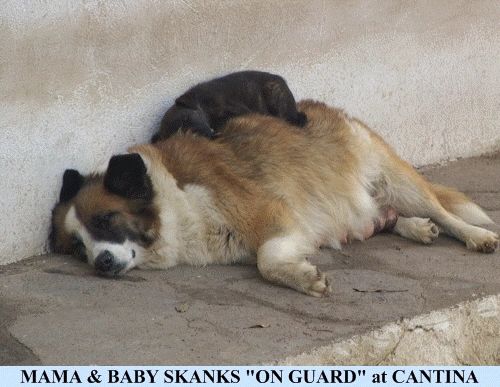 Ambience: Authentic Mexican decor with a lot of old crusty/salty types of ole timers hangin there. We love the character of the joint and the ole slubberdegullions are happy and friendly. Just like the "skank" dogs that meander through---they don't beg---just wag their tails. ("skank" is a term of endearment for the beach muts that roam and relax all over the Baja peninsula---they are their own breed. Part everything (including cayote) and yet are way more happy than their american counterpart purebreeds---any purebreed spotted in Baja is presumed: gringo ---any peculiar looking, Hienz 57 with a few battle scars, missing some feature and a patch of mange is probably a purebred Mexican "skank").
Baja Seasons Resort: Bar and Restaurant are clean and modern. Primarily a trailer resort. Swimming Pool, tennis courts, putt-putt and hottub available to paying guests (I wouldn't use that hot-tub if they paid me!!--seen too many maids washing babies in the hot tub during the week, --let alone all the children under 12 playing in it...interesting that these kids never seem to use the restrooms while playing in the hottub!)..Other than that...I love the people at the resort...good Mexican friends of Bajabrent.
ROAD TRIP SOUTH (towards Ensenda and beyond):
Bajamar Golf: Within 5 miles you will come upon Bajamar world class ocean golf. Known as Baja's PebbleBeach the public is welcome, but they will stop you at the gate to get info from you. This is a golf resort and residential community. 27 holes of golf, many with fairways/greens right on the ocean bluffs. Spectacular views and fairly well groomed. Pro shop, restaurant and bar on the premises. Food is OK
El Mirador: @ 8 miles south, from house is the spectacular Mirador, at the gateway to the Ensenada volcanic bay. After passing Bajamar you will ascend a long desert grade with gayfully colored roadside rocks of turtles, frogs and ladybugs. You will notice the Mirador exit to your right and a series of brightly colored buildings. This is oftentimes closed but you can park on the side and walk around the barriers to feast your eyes on a spectacular ocean view out over the bay.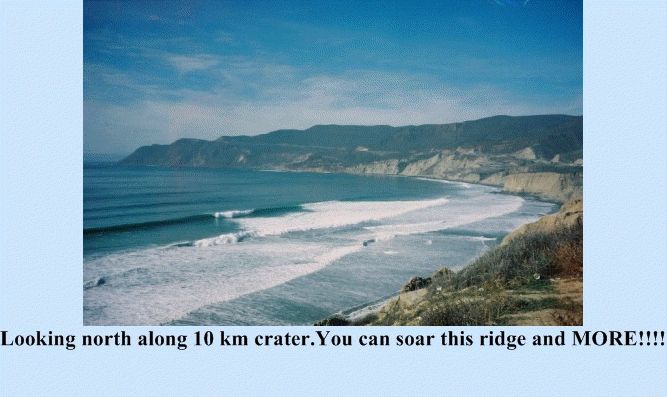 Oftentimes compared to Big Sur in San Francisco. Then you get to get in the car and continue south driving along the edge of this ancient volanic crater.... AWESOME keep the camera clicking! and WATCH FOR WHALES!!!
Salsipuedes Surfbreak @ 10 miles south, you will locate Salsipuedes Surfbreak (means "leave if you can") Surfpoint. A favorite of many veteran surfers. You may need an SUV to venture down the dirt road to the ocean, especially if its rained.
El Mirador/Salsipuedes Parglider Launch @ 12 miles south. AKA "Peter's Launch" -right off the road. You will know it because the road wraps around just before and you come up to a berm that breaks away to a plateau to the right (towards ocean). There are two higher plateus right in conjunction.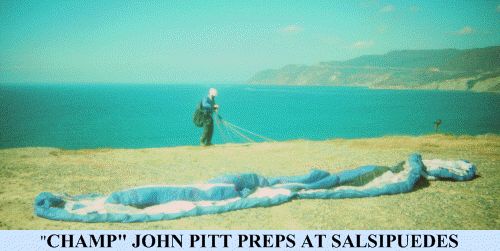 You need to be P-3/P-4 or you're very dialed in. Short launch, toll road is 100 meters behind you; and if you sink out; you will be forced to land on a narrow stretch of rocky beach below---if any.
Watch for rotor on two higher launches.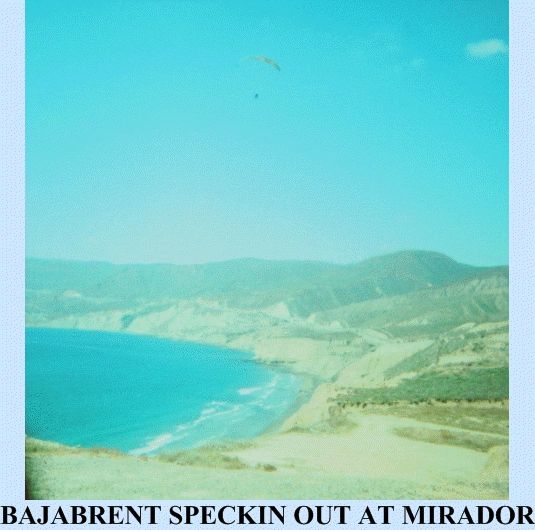 You launch out over the ocean from about 200 feet up. You work the onshore ridge lift, to the south; over the road and up the mountain to the east. You can climb to 1500-2000 above in minutes(Bajabrent has been over 3K here) and soar north to along the volcanic crater to El Mirador and/or south to the Ensenada toll gate. Spectacular views and smooth soaring.It doesn't get much better than this! NOW WHO'S YOUR DADDY???
San Miguel Surfpoint @ 20 miles south: At the Ensenda toll area. Just after paying the toll, the next exit it takes you there. Over the years Bajabrent has met numerous professional sportspeople in extreme sports. But time and again the pro surfers always want to spend some time at San Miguel. Plus TodosSantosIsland, one of the worlds top 5 big wave venues is right across the bay!
Ensenada @ 25 miles: Beautiful Mexican port city set back in a volcanic bay. Lotsa attractions, but Bajabrent would list his 3 top favorites as: 1) Ensenada Fish Market 2) Bodega de Santo Tomas---wine cellar for a hundred years; 3) SantoTomas Island---worldclass big wave surfpoint.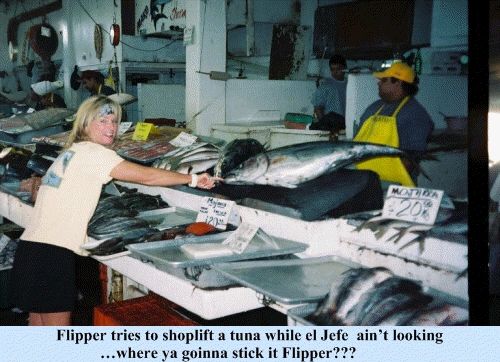 To Find the Fishmarket: a soft right turn at the first major traffic light in the center of town after passing port on your right. Fish market is at end of block to your right. There are two main isles.. You'll find: shrimp, clams, mussels, swordfish (make sure you're not paying for shark), seabass, tuna (all types), mahi mahi (great smoked too), crab (claws), lobster, abalone, and so much more.
Find the Bodega Santo Tomas: instead of turning right to fish market, go two more lights and turn right. Proceed 6 blocks, its on the right. Last wine cellar tour at 3:00 PM.
Santo Tomas Island: Todos Santos Island (Billabong Odyssey 2004 featured surf break and where Taylor Knox was photographed setting a world record for the tallest wave surfed of 52 feet February 1997 another 60+ footer in 2004). Tow-in-surfers, its all yours! Charters will take the brave ones and tourist from the port of Ensenada.You may also charter from the B-4 Beach Club.
Ensenada,otherwise, OK Hussongs' is a must if you drink! Anthony's for girls! and the main blvd of tourist traps will wreck havoc on your wallet, but what the hey...its vacation! Lotsa year round festivals, but you'll have to read Bajabrent's Baja Beachline for those updates..One last thing, Ensenada is not another TJ or RosaritoBeach. Its old school Mexico and you feel it when you first enter. Its worth exploring..oops amost forgot another landmark: El Rey Sol a french quisine restaurant right on the main tourist strip. Excellent food and been there FOREVER! A must!
La Bufadora/Estero Beach: Follow Route 1 signage through Ensenada. Pass the Ensenada Golf Course and follow signs. La Bufdora (the Blowhole) is a natural ocean geyser on the opposite side of the volcano crater opening. It blows a mile into the air...well maybe not that far..but its pretty cool and the drive is great...You will pass EsteroBeach just before that. I know EsteroBeach has a big volley ball tournament every year. Other than that, it has sand...thats about it...
EnsenadaMountain: Across from EsteroBeach. Can't miss it. Great flying and very beautiful. Pick your spot!
ROAD TRIP NORTH Towards RosaritoBeach and Tijuana
La Fonda Hotel, Restaurant and Spa; @ 5 miles: World Famous La Fonda, since 1952. Great oceanfront dining, Lobster is the best of the best on the coast
BAR NONE!!!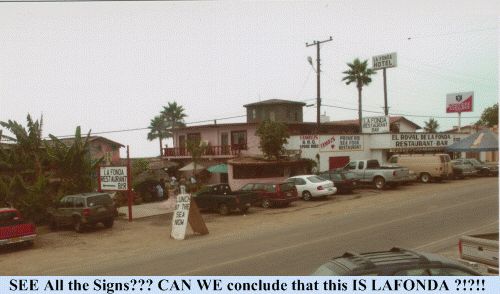 Puerto Nuevo can't hold a candle other than the fact that the Gringos all go there...so what? That proves nothing and this will prove it! Also steaks and margaritas are fabulous. Dinner portions are HUGE! Dinner music and dancing till 11:00 PM on weekends. You want royal treatment? Want the BEST TABLE IN THE HOUSE see BAJABRENT! HE'LL HOOK YOU UP!!!Don't forget sunday brunch for all you can eat paella buffet and all you can drink bloody marys @ $12! On recent add on is a "bar only" filet mignon...great filet; veggie and soup $10!!!
La Palapa de Jose; Costa Rica style restaurant/bar right on the beach about kilometer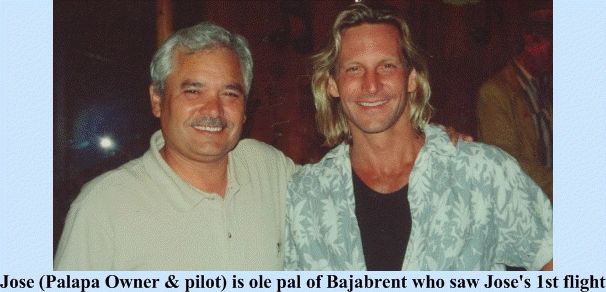 north of La Fonda. You need to enter through the K-58 surfer camp access. Follow signs. Great facility featuring Miguel De Hoya, the most impressive flamingo guitarist in the Baja. His shows start 7:30 PM on the weekends Usually Friday through Sunday night. DON'T MISS THIS GUY Sometimes he plays till closing. DJ or karaoke usually follows Miguel
K-58 Surfpoint: Perhaps the best local surfing in the Nugget. Beautiful left break. No one there during the weekdays, the weekends...guess! Its accessible through the La Fonda Breezeway or the route to La Palapa de Jose.
Gabrielle's Ultralight @K-58: Been flying around "the Nugget" as long as Bajabrent. Could be longer, but BB doesn't know cause he wasn't here. 15 minute flights along the coast @$30! Gabrielle is the local guy for powered flight. He serves many other motorheads. His hanger is along the east side of the surfcamp right beside Jose's...yeap he got Jose and now he flies!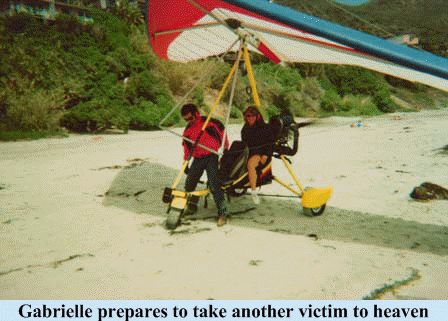 Halfway House @ 8 miles north: Owner/chef is a gem and an artist. Serves later than anyone in the Nugget area. Bajabrent has eaten there 4 times in last year after 11:00PM. Great steak/veggies. Decor is a little sterile, but its clean. See pics of hanglider fly-ins hanging on the walls!
Halfway House Glider Launch: Since the time of Poncho Villa, the glider launch seems to have been there. Good on stronger days at La Salina and when a little north. Cross bridge just south of Halfway House and fine your way up the road. Its right there!
Cantamar/Prima Tapia @12 miles: A great community to get things done on a smaller-intermediate scale. Huge sand dunes draw too many ATV's but can also be a nice training hill for kiting a paraglider. All sorts of auto repair/service and the closest gas station to the Nugget.
Puerto Nuevo @15 miles: Gringo tourist trap if there ever was one. However if you only have 3 hours to visit Baja...go there! Lotsa mediocre mexican lobster, watery margaritas, and cheap trinkets. But you'll feel like you experienced Mexico...especially if its all you know. Be prepared for zillions of other gringo tourists...used to be a sleepy town, now Sundays look like the Gaslamp mob of San Diego...same people--- just Sunday afternoon rather than Saturday night and their hangover is in Mexico!
Bobby's by the Sea Sports Bar and Food: @ 16 miles; This is not a paid plug!!! Bobby is a La Fonda original! Bobby is loved and Bobby loves in return! He runs an awesome sports club ...and every local is there on Sundays... Does Bobby rhyme with bookie? kinda... you figure it out! Good drinks, cause Oscar (another La Fonda offsrping) runs the bar...Food is great too, with lotsa lotsa vegetables...mainly a pasta place with seafood, when you meet Bobby..all of this jibberish will make SENSE!!!
K-38 Surfbreak: A surfer legend throughout the free world. Nice channel out and great left break. Don't need to say more other than its very consistent and attended! Enjoy!
Fox Studios @ 20 miles north: Largest salt water movie set in the world. First film there was the Titanic in late 1996. James Bond, Master and Commander most recently and a boatload of other blockbusters! There's a tour, of course, through various sets. And a mile long of street vendors to buy mexican trinkets and pottery.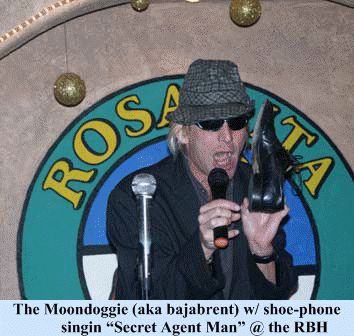 Rosarito Beach Hotel @ 25 miles north: In the beginning there was the RBH and La Fonda...THAT'S IT! Its become huge even cavernous and is certainly worth the visit. We frequent there for the outstanding Karaoke show sponsored there 4 nights a week. And that happens a lot...but there, no one knows Bajabrent---but they DO KNOW the "MOONDOGGIE"..another story/life for another website...
RosaritoBeach: Various dance clubs lie immediately north of the RBH: Rock and Roll Taco, Senor Frogs, Pappas and Beer, and you can boggie your bottom till the wee hours on the weekends. But like TJ be prepared for the disproportionate number of teenie boppers and twenty somethings that are experiencing the affects of the alcohol for their 1st-10th time. But as long as you can avoid the obvious related
issues....You Can Have a Blast! Expect long lines and cover charges during spring break and summer weekends.
Tijuana (TJ) @40 miles north/border: Bajabrent does NOT recommend TJ for anyone over 20. Its daytime stores cater primarily to cross-border foot tourists and they gouge accordingly. time is ruled by teenie boppers who are too young to drink in the states, and the clubs cater to the same. This isn't to say that the 20+ crowd can't enjoy themselves, but it isn't worth the drive when RosaritoBeach has similar clubs and its much closer.
Finally, Bajabrent considers TJ more dangerous than any other area of the Baja Gold Coast. And its because of this reputation that the rest of Baja is shunned by many north of the border i.e. other than TJ, the balance of the Gold Coast is far safer than many downtwon areas of San Diego and Los Angeles...
ROADTRIP INLAND
Now it gets good! For those of you who want a real adventure, be a real Mexican and get off the beaten path....go the free road. Go to La Fonda exit and follow the free road south under the toll road. This will lead you up and over into La Mision/ Santa Anita.
La Mision/ Santa Anita: Basically there really is not an official town called "La Mision" rather its Santa Anita ( a colonia). However the Gringos will always remain confused...and therefore so will the name. Be that as it may, there IS an ancient mission in "La Mision". We'll get there in a minute.
However as you leave La Fonda, and follow the free road south, you will go up and then wind down into the Santa Anita colonia. Right before the Guadalupe Riverbed sits several little shops/restaurants. Sub Agencia La Mision resides on east side of the street and is known for cheap beer and snacks. Across the street, The La Luncheria, does great breakfast; And adjacent to the Luncheria is Maganas' Tacos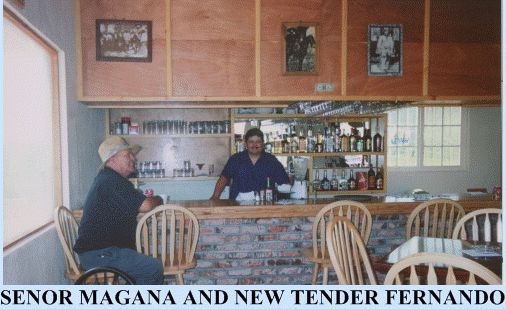 ...the locals favorite for carne asada tacos....they also just added a bar...can't find a bartender because their first one was always DRUNK! So how do ya like that??? I thought that was the prerequisite for bartending in Mexico!
Cross the Guadalupe River bridge and you're on the other side of town. First attraction,...La Mision, yep there is one. From 17th century, the padres built and the ruins now remain incorporated into the elementary school, just on your left. La Mision Festival held every year to celebrate founding by padres includes arts, crafts, carnival and rodeo. A true Mexican event, that gringos are welcomed to.
Further up the road is La Policia station, Offices of Ejido (farmer coop) and Oscars Mercado---best market in town...
Continue on out of town, and you will end up climbing a steep mountain grade known as "El Tigre". El Tigre is windy and dangerous and is not a good idea at night. Known as the "killer" climb for cyclist who participate in the annual Rosaritio Beach-Ensenada bike race, and you'll see why. At top of this grade is the entry gate to the glider port road access.
After el Tigre, the road rolls and winds through Mexican back country. Eventually you come upon a turn, that allows you to go to Valley de Guadalupe (Wine Counrty) or continue on to Ensenada. Guadalupe road is rougher washboard but fun in the right SUV. Ensenada route is spectacular
Wine Country @ 45 miles inland from B-4 and subject of separate website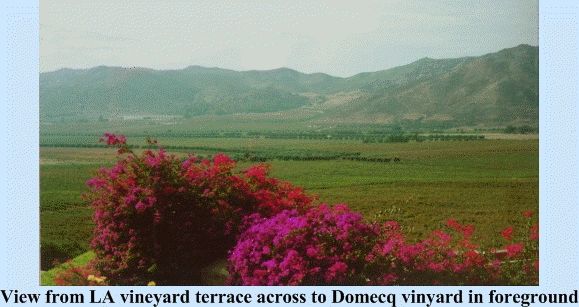 If you head to Guadalupe, within a 45 minute scenic drive inland through ole Mexico, you can visit the Valley de Guadalupe where over 12 internationally renown vineyards produce Mexicos finest wines (some world class) including: LA Cetto (or L.A.Cetto), Calafia, Domecq, and Santo Tomas (which is actually in Ensenada). Some of these vineyards predate California vineyards and their commitment to quality challenges all!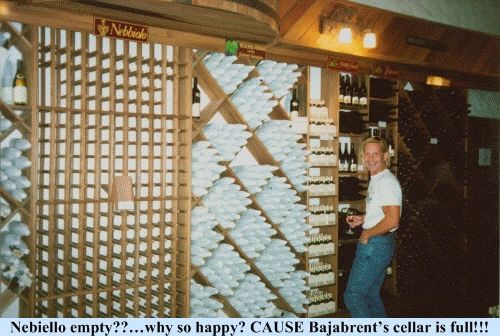 SUMMARY
This short guide is only a sample of sites, scenes and activities available in the area surrounding the B-4 Beach Club and Nugget of the Baja Gold Coast . Hopefully this has been helpful and you will choose Bajabrent to show you these as well as others unknown to most. As for the beach club...
In spite of all these available activities and opportunities, the pristine La Salina beach, unlike its sisters to the north, is wide, white, unpolluted and most of the year, practically deserted. In fact, oftentimes the half dozen beach horses, grazing on the banks, outnumber the beach goers! However, in fairness, there are times when the beach gets a fair amount of activity, but nothing like the beaches immediately north of the border! Come see for yourself!!! AND NEVER FORGET..."WHAT HAPPENS IN BAJA, STAYS IN BAJA!!!! So Don't go "LOCO" Go Local GO BAJABENT! HE'LL HOOK YOU UP!!! Find wassup right now at http://Bajabrentblog.bajabrent.com
Other intersting links for Baja and paragliding...BUT DON'T FORGET TO COME BACK!!!
www.vacationrentals411.com ***