OK perhaps you are a bit confused. Is this a beach house or B & B? Well, its sorta both! There are times the facility is rented to a whole group (Pilots, Surfers, Bachelor/Bachelorette parties): families, companies, weddings, Baja Beachclub Members, etc.
At other times, especially when Baja Brent is there, the facility may be booked in a B & B format: albeit room by room. Obviously, you will want to contact us and find out the status of your anticipated booking date. Now, lets talk about the layout.....
First, and most importantly, the Beachclub house is NOT a 5 Star Americanized resort. Bajabrent has stayed in such places in Cabo and elsewhere and although they are nice, it is not the reason one comes to Mexico---to enclose oneself in a ritzy resort. You might as well stay in L.A.
On the other hand, although the Beachclub house is a little rustic. it,has a charm that is all its own. It has a "homey" feel and yet you are right on the beautiful sandy beach.
As explained on the homepage,the 4,000 sq/ft complex features 4 BRs; 4 bathrooms and a multipurpose room w/ extra sleeping facilities. Main house features a large kitchen that merges into a cozy grand room w/ handsome stone fireplace, several seating areas, 4 large picture windows with panoramic 180 degree beach / whitewater ocean view. The entire area LR, DR and kitchen look out on the beach.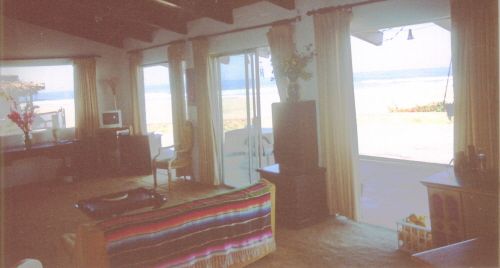 The grand room opens onto a very smooth cement patio with large built in circular brick fire pit; a built in BBQ and a shuffleboard court! The hacienda style home also encompasses an interior rose lined courtyard, with outdoor seating and dartboard.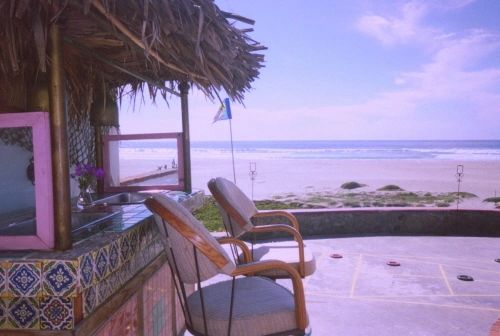 Other onsite features include: pool room with antique regulation slate-bed pool table; a multipuporpose room for group parties, functions, training etc. The facility has two bars, and audio visual facilities throughout, including CD, DVD, USB, MP3, etc. stereo systems throughout; ample parking; 24 hour gated security into the beach community. DSL internet and phone service is usually available, subject to Mexican issues in such service, just inquire for details.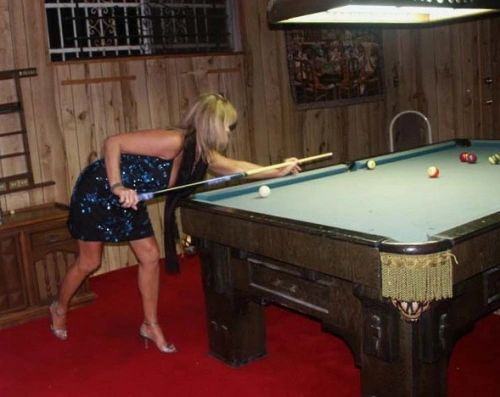 There are generally 2 methods the facility is booked:
I. BED & BREAKFAST GUEST ROOM RATES:
"THE MOONDOGGIE MASTER": "The Moondoggie" is a legend from both from the 50's and today. This room is themed w/lotsa "Gidget" and "Moondoggie" paraphanelia from the original 1950s/60's classic surfer movie (the first Hollywood production about surfing). Also features THE MOONDOGGIE "stuff" which is BajaBrent's karaoke alias (see www.THEMOONDOGGIE.com The connection between the two becomes evident as you follow the story...which make this a.very interesting room! Includes a Kingsize bed, adjustable, with a vibration system built in. kinda like the "Magic Fingers" systems from the deco 60's, but much nicer/quieter, and you don't need a dime! The attached master bath has a large shower and plenty of room and mirrors. The bathroom opens onto the beach patio. . (B & B rate $85-$105/night)
"FLIPPER'S FLAT": Designed by "Lil Flipper" this dolphin themed room is decked out with lotsa cool Flipper stuff, from the 60's through today . Unquestionably the "cutest room" at the B.4. A private room with queen bed, at the front of the Main House near all.A bathroom is two steps across a hallway. (B & B rate $75-$95/night);
"PILOT'S PEEK": A Flyer's themed room dedicated to the sport of Paragliding, Hang gliding, PPG, Ultralight, Kite-boarding, and all the rest. There is a "Pilot's Peek" of the La Salina Ridge glider launches so you know whether its time to fly or not...You don't have to be a "pilot" to stay in this room, but you may very well evolve into one after a single night.. This room has two queens beds and a twin/full foldout. It opens onto the beach access courtyard. ... HAS A NEW PRIVATE BATHROOM w/shower. (B& B rate $75-$95/night);
"SURFER SWEEEEET": Bajabrent has searched the web and located EVERY SINGLE Baja surfbreak poster and displayed them in this room. "Lil Flipper" pimped it out in surfer decor. If you surf, there is no finer Baja Surfer themed room ANYWHERE!. If you dont surf, you still will love its "feel" Even before we added its PRIVATE BATHROOM, it has been the most popular room at the B.4! Spacious yet cozy, you are engulfed in surf culture from Endless Summer, to Taylor Knoxs incredible shred at Todos Santos, right to today! I This room opens on the interior courtyard and features a queen and double bed.Has a little view of the beach/ocean. Plenty of seating area. HAS A NEW PRIVATE BATHROOM w/shower. (B & B rate $75-$95/night);
"FRENCHY'S QUARTERS" (Frenchy was the name of the original owner who built the home) This eclectic 400 square foot multi-purpose room has a dry bar and other optional amenities for a meeting room, pilot/surfer training facility. party room and/additional sleeping quarters for up to 8. It shares the main bathroom. (rate is based upon circumstances);
This is the basic B & B layout on designated weekends. B & B periods tend to be holiday weekends or about once per month and/or weekdays that a group has not booked the same. Feel free to field questions, there may be times that you can book a room and have most/all of the place to yourself (plus B & B management)....
OH YES LETS NOT FORGET THE BOLD PRINT:
NOTICE: All offers on rates and prices are subject to change without notice prior to booking. Advanced reservations require a minimum nonrefundable 50% deposit on B & B. In most cases an additional security/key deposit may be required, upon check-in. Each of the designated rates are dependent upon time of year; day of the week and number of guests in the room. All rates are based on a minimum 2 night booking. All rooms are based on double occupancy. In rooms with multiple beds, additional guests are charged $20/person/night based on 2 night minimum stay.. . Feel free to email me with additional questions
II. FULL FACILITY BOOKING:
The entire facility can be booked according to the following fee schedule: (and can now handle 15-20 or more comfortably) . If you are a family/group 4 or less, its possible to rent part/all of the facility exclusively, but requires a dialog.
PRICING SUMMER: MAY 15-SEPT 30 (excluding holidays)
| | | | |
| --- | --- | --- | --- |
| People (including children) | 1 - 4 | 5 - 8 | 9 - 12 |
| Summer Regular Night (2 night minimum) | call/email | $325 | $395 |
| Summer Weekend (per night) | call/email | $425 | $475 |
| Summer week (7 nights) | $1750 | $2100 | $2350 |
PRICING WINTER: OCTOBER 1-MAY 14 (excluding holidays)
| | | | |
| --- | --- | --- | --- |
| People (including children) | 1 - 4 | 5- 8 | 9 - 12 |
| Winter Regular Night(2 night minimum) | call/email | $250 | $295 |
| Winter Weekend (per night) | call/email | $325 | $395 |
| Winter week (7 nights) | $1400 | $1695 | $1895 |
"Regular Night" rate based upon 2 night minimum (Monday-Thursday)
"Weekend Rate" includes 2 consecutive weekend nights of Friday, Saturday and/or Sunday Night
Check-in is 4:00 p.m. Check out is at 12:00 p.m.
Special group rates exist for groups of 13 or more people (Generally $20/night/pp,based on a minimum two night stay).
Special rates exist for all holiday periods, including: Easter, Memorial Day, 4th of July, Labor Day, Thanksgiving, Christmas, New Years Eve/Day, Valentines/Presidents Day. and Spring Break
All bookings require full payment in advance; and group bookings require a refundable security deposit. There is sometimes flexibility on check-in check-out times.
ALTERNATIVE LODGING OPTIONS: Feel free to inquire about other possible options. I work with most/all local resort managers/owners etc. MORE IMPORTANTLY, I know most of the others in the area who rent homes, condos, cottages and casitas, most of which are not savvy with telecommunications, let alone THE WEB.
Best of all, I am privy to last minute cancellations and schedule changes. Thus I often can find something when other avenues seem foreclosed.
I generally charge a service fee of some sort if you book through me to stay somewhere else, usually $20-$25/night for advanced smaller bookings (more for larger bookings and on season bookings)...this is NOT what I do for a living...but i value my time: how much of my time will be spent facilitating a booking request versus sayyyyy FLYING????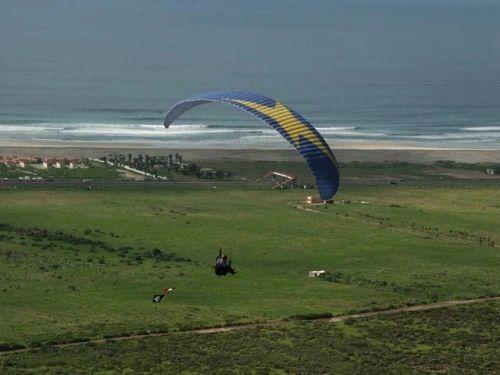 Bajabrent flying with Pirate and Mexican Flags
Or singing Karaoke..
Or writing his blog: http://Bajabrentblog.bajabrent.com
OH YES LETS NOT FORGET THE BOLD PRINT:
NOTICE: All offers on rates and prices are subject to change without notice prior to booking. Advanced reservations require security deposit(s). There are terms and a contract generally required. Anyone wishing to bring a pet must have advanced permission and will be subject to a $5.00/night surcharge. No offers contained herein constitute a sublease or rental agreement. Baja Beach Bed and Breakfast (the B-4) Baja Beach Line, Bajabrent and Baja Businesses of Mexico S.A. de C.V.
Copyright 1997-2008 and are trademarks of the Publisher