AHHH THE BAJA...Vegas highjacked the theme "What happens in Baja STAYS IN BAJA" and alas thats kinda what happened to me!
I first started coming to Baja Norte in 1985, when the toll road that exited into Rosarito Beach became a single dirt lane. The street was lined with corrugated tin shacks as you rambled up to the Rosarito Beach Hotel. Back then we stayed at the Deco RBH because rooms were $19 - $39 AND because it was just SO COOL! It was the Hotel Casa Blanca... AND Rosarito Beach at that time was still a lazy Mexico Beach town with a half dozen hole in the wall bars and Corona was $5 for the case....those were the good ole days
Rosarito was beautiful back then and cheap back then and we loved it. Then things happened and I returned to my origins in the midwest where I remained for several years. But never during that exile did I fail to come back to Mexico a couple times a year.
However, on return trips, I started staying at "offbeat" lodging. I'd always been an adventurer, and loved to find places no one knew about. This was especially helpful during the holidays and the "on season" when there simply was never enough hotels/motels to serve the masses.
Finally, I came back for good, bypassing San Diego and straight into the Baja. As I prospected on where to live, I ended up staying with various part-time lodging hosts: homes, hotels, trailers, casitas, you name it I found them.
If you read this story you will learn that, it was death of my late wife and my withdrawal from the rat race that placed me in Baja , but it was the sport of paragliding that kept me here. In order to financially survive, I had to develop a niche...a specialty that I soon mastered. The art of the LAST MINUTE BAJA BOOKING! When there's NO ROOM IN THE INN (meaning La Fonda Hotel)---the masses turned to BAJABRENT cause he (I) CAN HOOK YOU UP!!!
My story follows below. But before we go there, its probably important to point out a few things. First, this website is the first of many that I am producing ( I work at a legal website as a consultant). Others will include: www.bajabeachline.com (the newsletter that many of you are familiar with) www.bajagoldcoast.com covering lodging, dining and entertainment; www.bajabeachbedandbreakfast.com (and www.b-4.com for the B & B); www.bajaflight.com and www.bajaparagliding.com (obvious) www.THEMOONDOGGIE.com (my karaoke website); and a couple others. Stay tuned a full build-out and professionally customized mega site is underway anticiapted int 2-4 months
Second, this website is---well--- a little heavy---maybe OVERWEIGHT--maybe even OBESE on me, myself and I. My apologies, but the only cohesive theme that has come through over the year's is BAJABRENT And because many portions will become severed among bios on at least 3 subsidiary sites . BUT for now, since most people in the Baja are familiar with my personality of Bajabrent (whether host, pilot or singer) I thought i needed to blow this out first.
But in the beginning there was the Baja and flying--a turning point in my life-- that regardless of what has happened, I have to return to where it all began...God Bless Baja and God Bless America for making it possible to refresh the beauty below the border...and so the saga begins...'A LONG LONG TIME AGO, I CAN STILL REMEMBER... HOW THE MUSIC USED TO MAKE ME SMILE.. (american pie)
THIS IS NOT MY BEAUTIFUL HOUSE THIS IS NOT MY BEAUTIFUL WIFE, HOW DID I GET HERE??? (talking heads)
In 1995 my 34 year old wife was diagnosed with breast cancer. A year later we had liquidated our businesses--- her's a modeling agency, mine a law practice--- sold everything else: lakehouse, cars, boats, club memberships and packed the scraps into a 40 foot fifthwheel. And just like the Beverly Hillbillies, we were off! But our mission was different. We were off to Baja, to enroll my sick spouse in alternative cancer therapies available only in Tijuana and Rosarito Beach, thanks to the FDA.
Although we originally anticipated 4 days of travel, the cold, snow, ice, blizzards, mountains, deserts, thunderstorms, washouts, breakdowns, pushed us to 10 days. Then came the treatment(s).
After several months in countless clinics and therapies, and the battle was a loser. Diane through all her bravery and strife had been stricken with the worse of worse forms of breast cancer...I thought I could save her--perhaps my arrogance---but she believed that too...until the end we believed...but alas she passed away in January 1997.
In spite of the love of my wife, my family and my God, I found myself---alone--- in Mexico and disinterested in returning to my previous life, including my litigation practice. It just didn't seem to be all that it had formerly become: OUR LIFE before cancer. I'm sure many you can relate.
As I suffered through the grief of losing my soul mate, my gracious friends at Baja Seasons, had made it possible for me to park the 5th wheel in the southwest corner spot: RIGHT ON THE BEACH... complete with grass yard, deck, outdoor fireplace and THE PACIFIC OCEAN breaking in my front yard! I awakened each morning to the splendor of the magnificent Baja Beach and quieted in the evenings for the tranquil tequila sunsets.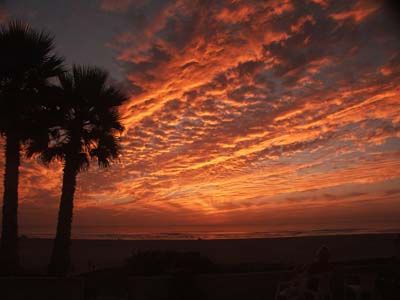 I JUST WANT TO FLY....(sugar ray)
As the days went by, I watched paraglider pilots flying off the La Salina Ridge immediately east of Baja Seasons. One day I ventured over and introduced myself to Steve, Eric, Peter, Curtis (a guy who flew with one leg) and Brian . Each was from a different part of the world, with the exception of Brian. Brian was not only my age, but also grew up 10 miles away from me in central Ohio. We became instant companions...What's more, Peter, Eric and Brian were each qualified Paraglider instructors who ran a flight school right there at La Salina Ridge. Flying was an everyday mission...
For the next month, we would meet daily for the excursion up the 700 foot mountain along a switchback that the group had built (including Curtis). Each day I would listen and watch them as they prepared to launch. Ever so often I'd walk to the cliff's edge, stand and look down and an old Van Halen tune would roll through my mind (you know I lost a lot friends there baby, ain't got no time to mess around) and would murmer "with all that has happened, what do I have to lose?"...Fatalistic? maybe so, ....But one thing was certain, my life had changed--- forever---and this was the way it had to go and I was ready...
Thus, on February 22, 1997 Eric took me tandem for the first time. That was IT! I was hooked. Over the next 8 weeks I took various tandem flights with over 15 different pilots. Paraglider, Hanglider, Ultralight, Paramotor---you name it, if it had a passenger space---I went up!
In May of that year, I got my first paraglider, took lessons and my life changed forever!!! I became a PILOT. Just practicing law, flying became an obsession. Twice a day in the summer---once a day---but longer flights--- in the winter.
REACH FOR THE SKY (Social Distortion)
As '98 became '99 and as '99 rolled into 2000, all the other local Baja pilots had disappeared. I routinely met other pilots, many of which had come from all over the world. And indeed, I shared my knowledge of the ridge and the other local flying spots. For the most part, however, I flew solo. Hour after hour, day after day, week after week, month after month and eventually year after year. Hundreds of hours flying by myself....well not exactly by myself.
The BIRDS have always flown with me. I can't remember ever flying without them. Hawks, vultures and on rare occasion an eagle will pop out of nowhere....but none so curious and friendly as the family of ravens who soar the ridge in synchronized majesty.
I can recall the earliest days on launch, before I flew, watching two parent ravens caring for their 4 offspring. Eventually the 4 had to leave the nest and fly from the cliff...They stumbled out one by one, the last nudged by mama.... and they took awkward flight.
Almost immediately, a new pilot such as myself back then, marveled at their speedy development. Within days they were soaring like pros. And within months I began to soar with them. I often take food to them, bread, fruit, trail mix, and they would soar in close over launch....sometimes no more than 5 feet and hang...just hang there and call to me. I know they know me, my wing, and my flying patterns. Int he mornings, they fly to my beach house and soar too and fro in front of the patio calling to me to come play. Those who think they're stupid birds, are simply ignorant...watch, read and learn about these creatures. They are amazing animals
Curiously, unlike what I have read and learned, the ravens seem to get along well with the local pairings of hawks as well. This peculiar harmony works well for a paraglider pilot. These birds show where the thermal lift is and of course, I take full advantage of their showmanship whenever possible. I love these birds of La Salina. They show me how to "Reach For the Sky"
As I enter my 9th year of flying, I recall so many experiences, of being aloft for hours. Most recently--- the longest I know of at the ridge-- 4 hours and 31 minutes without touching ground. A flight I experienced January 5 of 2005. I remain even more committed, than ever before, to paragliding and helping others experience the beauty of this sport in the Baja.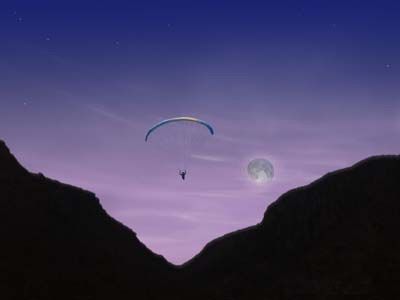 Bajabrent is aka as THE MOONDOGGIE. Flying a
Full Moon is difficult for wind/timing reasons...but
The Moondoggie goes for it...and Flipper caught one
August night in 2003...thank you Flipper
In the end, paragliding is my spiritual connection to the heavens. The auxiliration of being "popped" off launch, a thermal rush, or a partial collapse and recovery, always comes with a little "thank you jesus for making this happen". Many prayers are rendered aloft and when I fly with a gaggle of birds in a convergeance to 2000 above....there is a lifting of spirit beyond description. One could say, its my way to be close to my god and my dear loved ones who've passed on before....and yet its also A BLAST!!!! I can only share as I can this experience and encourage others to fly high and fly to your god!!!
"PARAGLIDING IS LIKE A DREAM, WHEN ITS OVER YOU'RE NOT SURE IT HAPPENED"...
*************
WELCOME TO THE HOTEL CALIFORNIA...YOU CAN CHECK OUT ANYTIME YOU WANT BUT YOU CAN NEVER LEAVE (eagles)
In mid 1997, comeradery among pilots was high and I eventually rented my first beach mansion in La Playa La Mision for the purpose of providing sleeping rooms to visiting pilots. Indeed, between the flight school and other visiting pilots from all over the world, there appeared to be a need for some type of lodging.
I fixed up the oldest house on the beach and waited for the "throngs" to beat a path to my door. But it never happened. After one month (and one booking) I began to look elsewhere. I had been told that La Fonda Hotel was always full on the weekends and had a surplus of guests seeking accomodations. Alas I ventured over to La Fonda and introduced myself to the owners: Sara and Joe Dimytri and Rene Croswaite. I told them who I was and that I had a house with 4 bedrooms available.
Joe and Sara laughed as they shared that when they first bought La Fonda in the early 1970's, they too had lived in my house. It seems that the house was originally built by the founder of the entire La Mision community: John Stocker. John had built my home in the mid 1940's; acquired 1000's of acres in the La Mision area, including all of the beachfront property extending from Alisitos (the surf camp north of La Fonda) all the way down the beach (inclusive of the La Playa La Mision beach community) to the public beach area at the mouth of the Guadalupe River.
In the early 50's John met Eve Stocker, an LA businesswoman and social-light, who traveled extensively in Baja. They later married and she established the original La Fonda Hotel and Restaurant. They lived in the house (with John's two children: Oakesy and Druanne) that I rented. Meanwhile Eve's entourage of LA connections visited including: Humphrey Bogart, Clark Gable, the cowardly lion from the Wizard of Oz, Meredith Burgess and many others. They admired the area and encouraged her to open a hotel. She did and in 1952 La Fonda was born
After John died, Eve moved up to the La Fonda complex building her own house at the southern tip of the complex. When she sold to Dymitri in 1978, Sara and Joe moved into the beach house that I was renting. Alas, they knew the home quite well.
The Dymitris liked my idea. Sara visited my house, (it had been 20 years since she had been---Joe wasn't into a "visit"), and a friendship was ormed. Subsequently, La Fonda would refer guests, and the guest, in return would dine/party at La Fonda.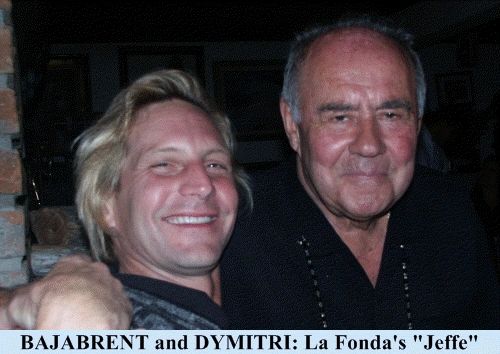 I began a ritual everyday after flying. I would go to La Fonda, sit at the end of the bar (my office) and wait for Mari (the receptionist) to flag me over to the reservation desk. She would introduce me to incoming guests, I would pitch them about my place, and oftentimes have them follow me the mile or so down to the home.
After several weeks of this "pitching" I found myself describing my place as well "kinda like a bed and breakfast-- ya know, each guests has their own bedroom and all the guests share the common areas and beachfront". One day, I decided to get up a little earlier and MAKE BREAKFAST for my visitors. That same day I christened my enterprise: THE BAJA BEACH BED AND BREAKFAST (aka "THE B-4"...there are 4 b's in Baja Beach Bed and Breakfast).
During the next several months, I rehabilitated more storage rooms into accomodations and eventually convinced my neighbors that I could better manage their 7500 foot beach rental. By early 1998 I had 14 accomodations between the two neighboring beach homes.I could accomodate up to 45-50 people under certain circumstances. And I did!
Through this hospitality arrangement, I eventually became one of the three largest hospitality venues in the La Fonda area. In turn, I encouraged my guest to "pass" on going to Puerto Nuevo for lobster and blow off Rosarito Beach partying, and stay local for dining and nightlife. Afterall, we had La Fonda for dinner, mariachis, dancing till 11. And of course Jose opened his Palapa in early 1998 and by early 1999 he had expanded it into a large nightclub with disco, dancing and welllll KARAOKE!
Over the 1997-2000 period, I felt like I worked La Fonda 30-40 hours a week, primarily on the weekends. Dymitris and the La Fonda clan adopted me into their inner-circle. I sat in "the office" for long hours watching Dymitri (Joe) scribble never ending chalkboard menus as we discussed local and world politics, in particular his favorite: THE FRENCH! YES The French had a special spot in Dymitri's heart...well maybe thats the wrong part of the anatomy...
And of course there's Dymitri's lovely espousa: Sara (or Sarita). She loved to hang out on the weekends, dancing, entertaining and keeping Joe under control---well if thats possible. But as a direct result of the La Fonda/Dymitri relationship, I became part of the local scene of the La Fonda close and somewhat extended family: Sara and Joe;Renee Croswaite; Bajabarb (she borrowed her name from me!!!); Gidget---(the talented and lovely La Fonda singer---who later took over the Karaoke show at Jose's Palapa); Bob and Pat Gee; Julio; Marri and Lola; Bill and Hahni Welsh, Ken and Elizabeth Kitzen (and Marcia of course); George and Fether; Gary and Tara; the list could go on and on...
Early in 2000 I was notified that I was going to lose my lease on the original B-4 beach house. As this event transpired, I struggled to hold onto the second home and survive on its revenue. Reality eventually crept in and it was time to cut bait and head for happier fishing. I ended up in North County San Diego but continued to facilitate bookings at the second B-4 and other properties I had come to know. I also became a legal web consultant.
Subsequently, while developing my legal web consulting practice, I searched for another venue to maintain my baja vacation enterprise and, of course, continued flying at La Salina. During this time 9/11 hit and dampened everything, including the whole La Fonda meldown that began in the winter of 2001-2002. This further impacted bookings... I continued "hooking" friends/guests up during this time but it just wasn't the same experience as living the Baja.
Then in mid 2002, I located an awesome facility for the next B & B. A magnificent home located next to La Fonda. We went to work trying to buy the place. Lotsa money spent on lawyers, appraisers and repairs even while we negotiated. Guests stayed with us during the process. Finally, in early 2004, the negotiation turned fruitless. It just wasn't feasible. It had all the beauty and ambiance, but had various other "issues" which inhibited cutting a "legal" deal. Punta Banda hauntings made this transaction seem impractical.
I then turned my focus to La Salina Del Mar. The community next to my original Baja habitat of 1997. The village directly west of my favorite place on earth...the La Salina flying ridge. Soon we secured the ideal home in La Salina Del Mar. Turns out that losing the La Fonda house and this new acquistiont may have been the biggest blessing in disguise. A home immediately across from the launches. A home where my raven families, now extensive, nest in the Palms surrounding the premises. And a home that rests on an expansive beautiful sandy beach, much more white and unpolluted than those to the north.
LA SALINA TODAY
As 2006 unfolds, it is without question that my journey has finally returned me to La Salina Del Mar of Baja California Norte Mexico. I do not believe this to be per chance. Development pressures are now narrowing down to this last undeveloped beach area. Perhaps the only one of its kind between Ensenada and Los Angeles California. Having worked with many real estate development entities in my previous life (as a lawyer) I am keenly aware of what the future may hold.
My sights are on La Salina, and what can be done to protect the quality of life and the beauty of flight that many of us know and share there. I would hate this beautiful beach area to turn into an overdeveloped mess like TJ, Rosarito Beach or the Cabo San Lucas (downtown). There is still time to make an impact, and promote this area as an outdoor sportsperson paradise! If you've read this website I think you can appreciate the unique nature of this opportunity and the quest of Bajabrent...the Moondoggie... and my friends who share this aspiration... see also www.FLYLASALINA.com andwww.FLYBAJAMEXICO.com and BAJABRENT's paragliding flight blog at http://BAJAFLIGHT.FLYLASALINA.com ).
Thanks for reading my story (or part of it) and welcome to another year from B-4!...IN 2007...and don't forget my regularly updated Blog: ttp://Bajabrentblog.bajabrent.com
EL GUSTO ES MIO!
BAJABRENT
.
ONE FINAL NOTE: although many people are mentioned herein, it is not meant to neglect others who have played key roles in my Baja success or my wonderful life in sunny Cardiff by the sea.
Flipper, in particular has been a great help and support---without her support and relentless hours both in Mexico and in Cardiff, I doubt this could happen. She is also responsible for most of the photos on this site...thank you little flipper! And by the way...she holds the world record for hiking up the La Salina Ridge---and then hiking back down!!! LOL One of these days SHE WILL FLY SOLO !!!
Many others have shared their support: Gidget, Cleojaptra, Lynn, Cza Cza, Cindy, and Lori/Francesco. Likewise my wonderful parents, brother and sister and their spouses and family have maintained the "faith" that has always inspired my life.
South of the border are all the fabulous Mexican Amigos I have been blessed with. Renee (el Jefe), Jose (La Palapa) Gabrielle (ultralight pilot), Ramon (Baja Seasons) Gustavo (La Salina), Lola (La Fonda), Juan and family (my mexican handyman) I thank the lord everyday that I have such a loving group of family and friends....through thick and thin....
Then there, are my business associates and great friends from Lawinfo.com. The CEO Gunter Enz, is truly a brilliant businessman and made this next phase of my life possible through creating a business opportunity that allows a person to pursue dreams in unison with Lawinfo. And the family there supports Bajabrent, Moondoggie and even Brentina...and I love them for this. Thanks goes to Gunter, Joe, Cara Mae, Mehran, Jana, Stacy (a B-4 regular from 1997---I didn't even know she worked at Lawinfo when I started in 2000---talk about coincidence)...Kim, Mary, Tammy, Kristin, Jay, Damien, Cheryl, Keith, and the rest of you who make Lawinfo the fun, happening place that it is...YOU ROCK!!!!
Last but not least are my flying companions and supporters who have helped keep this dream alive. John Pitt, hangliding/paragliding cross country sky god and champ from Lake Elsinore, Gabrielle and his ultralite team; Rick from Denver---he saved my life one night--at La Fonda---great story-- just ask---thanks Rick: Rick and Ruth Sharp from Vermont--- at www.paraflypg.com--- La Salina flight instructors for 14 years; Patrick Eaves of www.wingenvy.com and his flying buds of the San Luis Obispo Paragliding Club; Spencer and Kelly from the Point of the Mountain, Utah; Chris/Al from Vail; Alan Chuculate and all the other unamed but loved and admired pilots that fly here...and keep it clean and safe...
AND FOR 2006: the team for La Salina's future: Casey Cadwell, "Turbo" Bob Ryan, Jeff Greenbaum, Craig Addleman, Jack Harper, Jeff Farrel, Jeff Goins, Phil Russman, and to our brother in the sky, Alan Chuculate, who flew into enternity in November of 2005, we miss you bro, but know you're still flying up there with us!
All of your dedication, love, and commitment to the sport will spillover into the years that come. And I hope you'll be there throughout this endeavor....
Hasta Luego Baby GOTTA REACH FOR THE SKY....
....Bajabrent aka THE MOONDOGGIE
email: bajabrent@bajabrent.com